London 800m final report: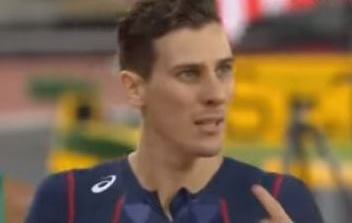 Although Nijel Amos and Kipyegon Bett were perhaps favorite to do well it was clear from the start that everyone in this final would consider this a great chance, and so the first lap would probably be a nervy one. And so it turned out to be. Brandon McBride took the lead, Bett started a bit slow, but as they came together he decided he wanted to be near the lead as well. So he forced his way forward and there was a bit of bumping as they all tried to settle down. Thiago Andrè eventually ran next to Bett, with Amos next to him again. Mohammed Aman ran at the curve ahead of Pierre-Ambrose Bosse, while Kyle Langford and Adam Kszczot settled at the back.
As they came out of the first bend Amos of course ran a few extra meters and so ended up behind Andrè, but soon decided that wasn't where he wanted to be and so he swept past to be at the shoulder of McBride as they reached the bell in a fairly quick 50.76.
Kszczot then moved up a bit, but only as far as seventh, while at the front McBride started to struggle and had to let Bett and Amos pass him. Then Bosse decided to act, and on the back straight he went forward fast and as they reached the final bend he just managed to overtake Bett and take the lead. Bosse powered on, Bett following, Amos tried to get past Bett on the the bend, but couldn't do it.
And so they reached the final straight: Bosse, Bett, Amos, Aman all ran on the curve, none of them able to make any ground on the man before him. But two others did run faster then the leaders. Kszczot put in a great dash, overtaking Aman, Amos and Bett. But he couldn't reach the Frenchman, who took a well deserved gold. Langford was still in last place as they came into the final straight, but he quickly ran down Aman and Amos as well, and on the line he was just a few inches short of snatching the bronze from Bett.
And so Bosse, the man who had looked so desperate in Rio after just missing out on a medal, is the new World Champion. He had a difficult season, with injury spoiling his preparation, and he was only just in time ready for London. He made the final as one of the two fastest losers, having managed third place only in his semifinal. His face said it all afterwards: Am I dreaming?. Non Monsieur, you are the new boss, you are the new World Champion.
    Result:
 1. Pierre-Ambroise Bosse  FRA  1:44.67
 2. Adam Kszczot           POL  1:44.95
 3. Kipyegon Bett          KEN  1:45.21
 4. Kyle Langford          GBR  1:45.25
 5. Nijel Amos             BOT  1:45.83
 6. Mohammed Aman          ETH  1:46.06
 7. Thiago Andrè           BRA  1:46.30
 8. Brandon McBride        CAN  1:47.09

---
London 800m semifinal reports
Three semis with just the top two progressing plus two fastest losers.
Often these heats are run fast, but as it turned out that wasn't the case this year.
Semifinal 1
The first heat featured Nijel Amos, Ferguson Cheruiyot and Adam Kszczot. It was Cheruiyot who was a rather reluctant leader after a bit of initial bumping, and with Kszczot hanging back they reached the bell at a sluggish 52.98. Kszczot moved up at that point and settled in right next to Cheruiyot and Amos with Isaiah Harris close behind. After 500m Kszczot felt that the race was going too slow, so he accelerated to take the lead. Harris followed but then couldn't get past Amos and so Amos was suddenly boxed in. He had to go all the way around Harris to reach the front again. Ksszczot was away and stayed away, Amos came second but Cheruiyot didn't appear to have the power on the final straight to catch the leaders and went out.

    Result:
 1. Adam Kszczot          POL 1:46.24 Q
 2. Nijel Amos            BOT 1:46.29 Q
 3. Ferguson Cheruiyot    KEN 1:46.49
 4. Isaiah Harris         USA 1:46.66
 5. Guy Learmonth         GBR 1:46.75
 6. Elliot Giles          GBR 1:46.95
 7. Abdessalem Ayouni     TUN 1:47.39
 8. Kevin López           ESP 1:47.62


Semifinal 2
The second semi featured Brandon McBride, Marcin Lewandowski and Emmanuel Korir, many people's pick for the gold. Dutchman Thijmen Kupers suffered a calf injury during training and so the race lost an obvious front runner. At the start Korir went out very slow and he had to make up a lot of ground after the first 100m. He soon settled in behind McBride who took them out in a pretty fast 50.85. The race seemed to turn into a procession then, with McBride and Bett leaving the others behind - Antoine Gakeme, Lewandowski and Kyle Langford had to allow a substantial gap. Into the final straight McBride never looked back and qualified very convincingly, but Korir suddenly wavered, and although Gakeme fell back Lewandowski gained ground quickly. Then from nowhere Langford, encouraged by the crowd, turned in a tremendous final dash and took the second spot into the final. Lewandowski was beaten into third and Korir, world leader and favorite, perhaps now lacking energy that he spent so unwisely on the first lap, went out. A big shock.

    Result:
 1. Brandon McBride       CAN 1:45.53 Q
 2. Kyle Langford         GBR 1:45.81 Q
 3. Marcin Lewandowski    POL 1:45.93
 4. Emmanuel Korir        KEN 1:46.08
 5. Drew Windle           USA 1:46.33
 6. Ebrahim Alzofairi     KUW 1:46.68
 7. Antoine Gakeme        BDI 1:47.08
 -  Thijmen Kupers        NED DNS


Semifinal 3
In this heat Kipyegon Bett, Pierre-Ambroise Bosse, Donavan Brazier and Mohammed Aman would appear to be the main contenders. The pace was modest, with Bett taking the lead ahead of Aman and Bosse, with Thiago Andrè and Brazier behind them. They reached the bell after 51.51, and for a moment it seemed as though Bett was perhaps following team orders - a slow race would bring Korir back into the final as a fastest loser. Bett kept his pace though and on the final bend he went away. Aman was the only one who could keep reasonably close. Bosse had to settle for third, Andrè could do no better than fourth. For both men that was good enough though, since this semi turned out to be the fastest one. Brazier, who was running in fifth place all the time, gave up with 30m to go and jogged over the finish line.

    Result:
 1. Kipyegon Bett         KEN 1:45.02 Q
 2. Mohammed Aman         ETH 1:45.40 Q SB
 3. Pierre-Ambroise Bosse FRA 1:45.63 q
 4. Thiago Andrè          BRA 1:45.83 q
 5. Michal Rozmys         POL 1:46.10
 6. Andreas Kramer        SWE 1:46.25
 7. Donavan Brazier       USA 1:46.27
 8. Álvaro de Arriba      ESP 1:46.64

So, a very surprising semifinal day. A bad day for the Americans. Harris, Windle but also Brazier went out without any of them really able to fight for their places. So far it's not a great tournament for the Kenyans either. Rudisha injured, Saruni a non-starter, now Korir and Cheruiyot simply seemed to lack the pace and went out as well. It's just Bett who is flying the Kenyan flag, although he did run the fastest time in the semis.
There will be three Europeans in the final (Kszczot, Bosse and surprise package Lamgford), but also just three Africans. Bett and Amos look strong candidates for a medal, Aman might just be finding back his form of some years ago. Canadian McBride might well play a pivotal role in the final - he might want to be the front runner. Brazilian Andrè is running his first major final.
---
London 800m heat reports
The first round consisted of six heats, so the first three of each heat would qualify and six further athletes would qualify for the semis on time. There had been a lot of rain just before these races, but it had fortunately stopped as the heats started. So the track was wet but the air was fresh.
Heat 1
This heat featured Kipyegon Bett and Drew Windle as favorites on paper. But it was the young Swede Andreas Kramer who took the lead and they reached the bell in a pretty decent 51.61. On the back straight Kramer was still leading, followed by Bett, Amine Belferar and Abdessalam Ayouni. Windle was way back and looked out of it. Belferar unfortunately pulled up injured as they went into the final bend. Windle was still in what seemed to be a hopeless position, but in the last 60m he madea a dash on the inside and suddenly picked up one athlete after another, and with his final strides he even managed to qualify automatically. Ayouni also qaalified as a fastest loser.

    Result:
 1. Kipyegon Bett            KEN  1:45.76 Q
 2. Andreas Kramer           SWE  1:45.98 Q
 3. Drew Windle              USA  1:46.08 Q
 4. Abdessalem Ayouni        TUN  1:46.19 q
 5. Andrés Arroyo            PUR  1:46.46
 6. Edose Ibadin             NGR  1:46.51
 7. Saud Alzaabi             UAE  1:53.34
 8. Pyae Sone Maung          MYA  2:13.38
 -  Amine Belferar           ALG  DNF



Heat 2
In this heat Brandon McBride and Antoine Gakeme were favorites, with Thijmen Kupers and Kevin López strong candidates as well. Kupers and McBride took the lead and reached the bell in 51.80. Behind them López and López were following with Gakeme locked in on the inside. On the back straight Gakeme pushed himself forward into second position behind McBride while Kupers lost a little ground. On the final straight however it turned out that Kupers had paced his race well and he even ran out the winner. Gakeme was visibly tiring and Kevin López managed to take the third qualifying spot. Langford came too late, but since this was of the faster heats both he and Gakeme qualified as fast losers.

    Result:
 1. Thijmen Kupers           NED  1:45.53 Q
 2. Brandon McBride          CAN  1:45.69 Q
 3. Kevin López              ESP  1:45.77 Q
 4. Antoine Gakeme           BDI  1:45.97 q
 5. Kyle Langford            GBR  1:46.38 q
 6. Jesús Tonatiu López      MEX  1:46.71
 7. Leandro Paris            ARG  1:47.09
 8. Pol Moya                 AND  1:49.06



Heat 3
Ferguson Cheruiyot and Isaiah Harris looked obvious contenders in this heat. It was however Ryan Sánchez who took the lead, although Rotich took over halfway, which was reached in 51.95. Sánchez kept in touch, with Harris and Giles close behind the two leaders. That's how it stayed until the final straight. Giles accelerated a little and went past and slightly in front of Sánchez, who gave a little push and lost speed completely. So Cheruiyot, Harris and Giles qualified well ahead of the others, but Ebrahim Alzofairi and Álvaro de Arriba both put in a final dash and in this fast heat their efforts were not in vain as they both qualified as well.

    Result:
 1. Ferguson Cheruiyot       KEN  1:45.77 Q
 2. Isaiah Harris            USA  1:45.82 Q
 3. Elliot Giles             GBR  1:45.86 Q
 4. Ebrahim Alzofairi        KUW  1:46.29 q
 5. Álvaro de Arriba         ESP  1:46.42 q
 6. Abdelati El Guesse       MAR  1:46.74
 7. Ryan Sánchez             PUR  1:50.74


Heat 4
This was the heat with Emmanuel Korir. He had to contend with Samir Dahmani, Alex Amankwah and Thiago Andrè among others. The German Marc Reuther took the lead but the pace wasn't very fast and the bell was reached in a modest 52.90. Reuther kept going followed by Korir and Andrè and the positions remained unchanged until the final 60 metres. Reuther then faded and Michal Rozmys showed some late speed, and so Korir, Rozmys and Andrè qualified from this slowish heat.

    Result:
 1. Emmanuel Korir           KEN  1:47.08 Q
 2. Michal Rozmys            POL  1:47.09 Q
 3. Thiago Andrè             BRA  1:47.22 Q
 4. Alex Amankwah            GHA  1:47.56
 5. Marc Reuther             GER  1:47.78
 6. Samir Dahmani            FRA  1:48.62
 7. Peter Bol                AUS  1:49.65
 8. Ahmed Bashir Farah       ART  1:50.04



Heat 5
From this heat Nijel Amos should certainly qualify, while Adam Kszczot and Pierre-Ambroise Bosse would normally expect to go through as well. Abu Salim Mayanja was a surprise leader although the pace wasn't very fast (52.26 at 400m) with Amos and Bosse happy to follow and Kszczot hanging at the back. On the back straight Kszczot moved forward into contention. Hamada Mohamed suddenly pulled up with what appeared to be a serious hamstring problem. Mayanja couldn't keep up the pace and eventually Amos, Bosse and Kszczot qualified comfortably without too much trouble.

    Result:
 1. Nijel Amos               BOT  1:47.10 Q
 2. Pierre-Ambroise Bosse    FRA  1:47.25 Q
 3. Adam Kszczot             POL  1:47.36 Q
 4. Mostafa Smaili           MAR  1:47.50
 5. Mark English             IRL  1:48.01
 6. Abu Salim Mayanja        UGA  1:48.11
 7. Francky Mbotto           CAF  1:51.76
 -  Hamada Mohamed           EGY  DNF



Heat 6
In this heat the Kenyan Saruni was a non-starter. Originally he qualified from the Kenyan trials, but since Rudisha (reigning World Champion) and Ferguson Cheruiyot (Diamond Race winner) were qualified by right the Kenyans had to drop somebody (since there is a strange rule that a country can send four out not five athletes). So Saruni was dropped, but reinstated when Rudisha withdrew. Despite all that he did not start in London. A weird situation. Donavan Brazier and Marcin Lewandowski should qualify, and Mohammmed Aman or Amel Tuka if they could find some form. Brazier took the lead and Guy Learmonth tucked in right behind him. At 400m they clocked 51.90, a decent pace. Aman and Lewandowski worked themselves forward but Brazier never looked back and qualified with ease. Aman showed a solid final dash and Learmonth held on for third. Lewandowski didn't seem to have the power of a few years ago but his time was enough for qualification. Amel Tuka though, usually capable of a fast finish, couldn't find anything extra and so the winner of the bronze medal two years ago went out. Daniel Andújar lunged for the line, but not only was he just too late, he was later disqualified as well.

    Result:
 1. Donavan Brazier          USA  1:45.65 Q
 2. Mohammed Aman            ETH  1:45.81 Q
 3. Guy Learmonth            GBR  1:45.90 Q
 4  Marcin Lewandowski       POL  1:46.17 q
 5. Amel Tuka                BIH  1:46.54
 6  Astrit Kryeziu           KOS  1:49.94
 -  Daniel Andújar           ESP  DQ


---
London 800m preview
The big news, of course, is that David Rudisha will not run. His form so far this year has been patchy, so he might not have been the favourite anyway, but the double World and Olympic Champion is always a force to be reckoned with. We won't be seeing any Rio medal winners, since Taoufik Makhloufi and Clayton Murphy won't run either. Instead the results so far this season suggest we have two main favourites and quite a few other medal candidates.

Emmanuel Korir (KEN)
He has appeared like a comet. Ever since Paul Ereng got involved his rise has been meteoric. He has the fastest time of the year so far and won the Kenyan trials. A medal must be in his sights.
Nijel Amos (BOT)
He is second fastest this year, and won two fast races. He looked the obvious favourite until Korirs meteoric rise. But his larger experience may make a difference in the final.
Ferguson Cheruiyot (KEN)
Winner of last years Diamond race, a steady experienced performer. He doesn't win many races though.
Donavan Brazier (USA)
Still very young, but he showed his talents in several Diamond League races. Surely a medal candidate.
Kipyegon Bett (KEN)
Another young Kenyan talent - and those can never be discounted.
Several other athletes could well make the final, but this season remarkably few athletes have performed strongly. Only five athletes have run faster than 1:44.3, so it's difficult to predict who is in good shape. Adam Kszczot (POL) won European indoor gold in March, but outdoors he hasn't done much so far. His compatriot Marcin Lewandowski hasn't impressed either. Pierre-Ambroise Bosse (FRA) just missed a medal in Rio. He has only run a few races this season. Brandon McBride (CAN) has an extra year of experience which could bring him further in this tournament. Americans tend to struggle in 800m World Chanmpionships, but Isaiah Harris or Drew Windle could falsify that. Antoine Gakeme (BDI) has set a few good marks recently. Finally young Andreas Kramer (SWE) has improved a lot over the past few months.
---