Doha 800m final report: Brazier an impressive champion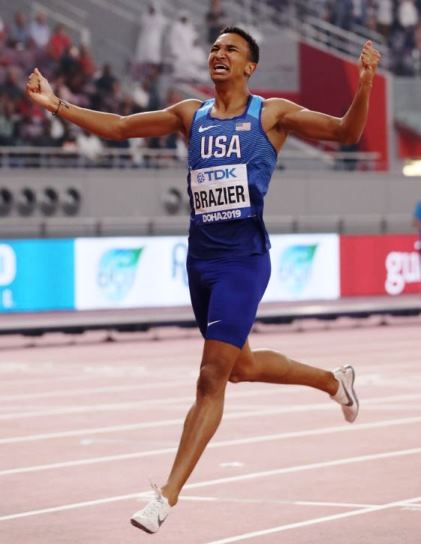 In every major final one of the most important aspects is whether one of the athletes will dare to take them out fast. This year it looked certain that Wesley Vázquez would take that role. His impressive performance in the semis would have given him the conviction that going out fast should give him a shot at a medal.
Vázquez did go out fast. And the only one to follow him closely was Donavan Brazier. The favourite, many thought. But Vázquez ran a blistering pace on that first lap. A split of 48.99 (Brazier clocked 49.21) looked way too fast a pace to sustain. Other medal contenders, such as Amel Tuka, Clayton Murphy and Ferguson Rotich were biding their time. At the bell they were almost 10 meters beyond the two leaders, a big gap.
On the back straight Vázquez just could not keep the same pace, but Brazier attacked and showed no sign of tiring. He sprinted home and looked a real champion, well clear of the others. Tuka eventually managed to get past Vázquez and took silver, Rotich finished third for bronze.
But Donavan Brazier is the star on the 800m. He finished more than a second ahead of Tuka. He finally broke Johnny Gray's North American record from 1985. He also set a new Championships record, beating Billy Konchellah's mark from 1987. And he now shares 9th place on the all time list with Wilfred Bungei.
    Result:
 1. Donavan Brazier           USA  1:42.34
 2. Amel Tuka                 BIH  1:43.47
 3. Ferguson Cheruiyot Rotich KEN  1:43.82
 4. Bryce Hoppel              USA  1:44.25
 5. Wesley Vázquez            PUR  1:44.48
 6. Adrián Ben                ESP  1:45.58
 7. Marco Arop                CAN  1:45.78
 8. Clayton Murphy            USA  1:47.84

---
Doha 800m semifinal reports
As is usual these days there were three semis. Just the first two would progress to the final and then there are two more spots for the fastest losers.

Semifinal 1
This heat featured Ferguson Rotich and Clayton Murphy as main contenders, but with plenty of other strong runners such as Abubaker Abdalla, Elliot Giles and Wesley Vázquez. And Adam Kszczot, of course, although he did not run great in the heats. Abdalla chose to go out at a murderous pace and only Vázquez went with him. So approaching the bell these two were way ahead of Ayouni who was a few metres ahead of the pack. The first lap took only 48.72 and it was clear that the leaders would soon run out of steam. Rotich and Murphy slowly moved up the field, Abdalla faded, but Vazquez hung on. The last stretch and Vá was clearly suffering, but he gritted his teeth and finished first in a splendid 1:43, ahead of Rotich. Murphy came only third but his time was so fast that he qualified easily as a fast loser. And in fact the Spaniard Adrián Ben, who set a PB, qualified as well. Kszczot never looked like he could deliver his well known final dash and finished rather anonymously in sixth place.

    Result:
 1. Wesley Vázquez            PUR 1:43.96 Q
 2. Ferguson Cheruiyot Rotich KEN 1:44.20 Q
 3. Clayton Murphy            USA 1:44.48 q
 4. Adrián Ben                ESP 1:44.97 q
 5. Elliot Giles              GBR 1:45.15
 6. Adam Kszczot              POL 1:45.22
 7. Abdessalem Ayouni         TUN 1:45.80
 8. Abubaker Haydar Abdalla   QAT 1:46.87



Semifinal 2
Emmanuel Korir and Donavan Brazier should be able to make it fron this one, but they would have to reckon with Marco Arop, Jamie Webb and Tshepo Tshite as their main rivals on paper. No one wanted to set a really strong pace but it was Arop who took the lead with Korir and Brazier at his shoulder. The first lap took 52.17, so no fast losers would come from this race. Arop held the lead, Brazier and Korir were happy to follow. Around the bend Brazier attacked, Arop held on, and Korir looked ready to accelerate. Brazier eventually worked himself past Arop, but Korir could not find an extra gear and Arop qualified in second place while Korir unexpectedly went out.

    Result:
 1. Donavan Brazier       USA 1:44.87 Q
 2. Marco Arop            CAN 1:45.07 Q
 3. Emmanuel Korir        KEN 1:45.19 
 4. Brannon Kidder        USA 1:45.62 
 5. Mostafa Smaili        MAR 1:45.78 
 6. Tshepo Tshite         RSA 1:46.08 
 7. Yassine Hathat        ALG 1:46.15 
 8. Jamie Webb            GBR 1:48.44 


Semifinal 3
Amel Tuka and Brandon McBride were the fastest on paper here, but Ngeno Kipngetich, Bryce Hoppel and of course reigning champion Pierre-Ambroise Bosse would certainly press them hard. Nobody was interested in any pace which meant that the numbers three and four from heat 1 were sure of qualifying even before this semi reached the bell. Kipngetich was leading at that point, in a slowish 53.09. With many athletes still relatively fresh the race became rather chaotic from here on. Tuka and McBride took over the lead, with Bosse and Hoppel following as Kipngetich faded. Hoppel lost touch a bit as Bosse held on while Tuka looked quite strong in the lead. In the final straight Bosse faded as well, then McBride seemd to hit a wall and lost speed dramatically. De Arriba ran around everybody, Langford seemed to have plenty of speed left but was boxed in behind McBride. Nabil tried to barge his way through bumping into both Langford and Bosse and was justly disqualified straight after the race. And so it was Bryce Hoppel, who managed took keep a decent enough pace to get past McBride and Bosse and also outrun the sprinting De Arriba, who took second spot behind the impressive Amel Tuka.

    Result:
 1. Amel Tuka             BIH 1:45.63 Q
 2. Bryce Hoppel          USA 1:45.95 Q
 3. Álvaro de Arriba      ESP 1:46.09
 4. Brandon McBride       CAN 1:46.21
 5. Kyle Langford         GBR 1:46.41
 6. Ngeno Kipngetich      KEN 1:46.61
 7. Pierre-Ambroise Bosse FRA 1:47.60
 -  Oussama Nabil         MAR dq

The semifinals usually spring quite a few surprises and this year was no exception. Neither Bosse nor Kszczot managed to qualify, but they never looked like real contenders this year. Korir though did look a serious contender - the car accident earlier this year may have taken more out of him than it seemed. The young Kenyan talent Kipngetich went out as well, so we will see only one Kenyan in the final - the seasoned campaigner Ferguson Cheruiyot Rotich. With Murphy, Brazier and Hoppel the USA have three contenders in the final. The one Canadian is not McBride but Arop. Vázquez and Tuka both looked quite strong and will fancy their medal chances. The Spaniard Ben is the rank outsider in the final.
---
Doha 800m heat reports
The first round consisted of six heats, so the first three of each heat would qualify and six further athletes would qualify for the semis on time. The temperatures were high, so fast times were not to be expected.
Heat 1
This heat featured Donavan Brazier as favorite along with Marco Arop and Tshepo Tshite, and it was Marco Arop who took the lead, followed by Andreas Kramer, Brazier and Tshite. They reached the bell in a decent 52:14, and nothing much changed for three quarters of a lap. Brazier then made sure of the win while Kramer faded to fourth place.

    Result:
 1. Donavan Brazier          USA  1:46.04 Q
 2. Marco Arop               CAN  1:46.12 Q
 3. Tshepo Tshite            RSA  1:46.54 Q
 4. Andreas Kramer           SWE  1:46.74
 5. Lucirio Garrido          VEN  1:46.89
 6. Mariano Garcia           ESP  1:49.08
 7. Luke Mathews             AUS  1:50.16
 8. Min Min Zaw              MYA  1:56.85


Heat 2
This was supposed to be the heat where Nijel Amos would set a first step to a possible world title. But it wasn't - Amos was injured and did not start. That gave many others an improved chance to qualify. Adrian Ben took the lead followed by Marc Reuther and Jamie Webb. The first lap was run in 52.43. On the back straight Ngeno Kipngetich moved forward while Brandon Kidder tried hard to do the same but was still last going into the final straight. Kipngetich ran out the winner, Ben and Webb qualified as Reuther faded badly. Kidder mistimed his run and came only fourth but qualified as the sixth and final fastest loser.

    Result:
 1. Ngeno Kipngetich         KEN  1:46.07 Q
 2. Adrian Ben               ESP  1:46.12 Q
 3. Jamie Webb               GBR  1:46.23 Q
 4. Brannon Kidder           USA  1:46.29 q
 5. Jamal Hairane            QAT  1:46.40
 6. Marc Reuther             GER  1:47.31
 -. Nijel Amos               BOT  dns



Heat 3
Reigning World Champion Pierre-Ambroise Bosse and Brandon McBride were the big favourites in this heat, but it was Abubaker Haydar Abdalla who took the lead and rattled off the first lap in 50.80. He kept the lead until the final straight when McBride, who looked very strong, glided past, but Abdalla qualified as well, to the delight of the spectators, while Bosse made sure of the third qualifying spot.

    Result:
 1. Brandon McBride          CAN  1:45.96 Q
 2. Abubaker Haydar Abdalla  QAT  1:46.11 Q
 3. Pierre-Ambroise Bosse    FRA  1:46.13 Q
 4. Mouad Zahafi             MAR  1:46.56
 5. Peter Bol                AUS  1:46.92
 6. Pol Moya                 AND  1:48.52
 7. Ryan Sanches             PUR  1:54.48


Heat 4
Here Ferguson Rotich and Adam Kszczot were obvious favourites, but Mark English started very fast and took a big lead. At the bell, which was reached at 51.89, he still had a lead of around five metres. Rotich was the first one to get past English, who eventually faded to last. On the final straight five athletes finished almost in line. Rotich hung on for the win, Kszczot could not find anything to reach the top three. Both Nabil and Kszczot qualified as fastest losers.

    Result:
 1. Ferguson Cheruiyot Rotich  KEN  1:45.97 Q
 2. Bryce Hoppel               USA  1:46.01 Q
 3. Abdessalam Ayouni          TUN  1:46.09 Q
 4. Oussama Nabil              MAR  1:46.17 q
 5. Adam Kszczot               POL  1:46.20 q
 6. Mohamed Belbachir          ALG  1:46.52
 7. Mark English               IRL  1:47.25


Heat 5
Emmanuel Korir was the obvious contender here, along with Wesley Vázquez. And indeed it was Vázquez who took the lead with Korir happy to follow. The pace was fast, 51.37 for the first lap, and all of them ran in single file. Korir and Smaili eventually went past to take the first two places, but Hathat and Langford qualified as fastest losers as well.

    Result:
 1. Emmanuel Korir           KEN  1:45.16 Q
 2. Mostafa Smaili           MAR  1:45.27 Q
 3. Wesley Vázquez           PUR  1:45.47 Q
 4. Yacine Hathat            ALG  1:45.67 q
 5. Kyle Langford            GBR  1:46.14 q
 6. Quamel Prince            GUY  1:48.41
 7. Mohamed Al-Suleiman      OMA  1:50.91
 8. Benjamin Enzema          GEQ  1:51:69


Heat 6
Amel Tuka and Clayton Murphy were the big names here, but it was Edose Ibadin who took a clear lead and led at the bell in 51.80. He was unable to keep that pace and Elliott Giles, Murphy and Tuka took over, although alvaro the Arriba made a late dash and was only just short of finishing third. His time secured a qualifying spot as one of the fastest losers though.

    Result:
 1. Elliott Giles            GBR  1:45.53 Q
 2. Clayton Murphy           USA  1:45.62 Q
 3. Amel Tuka                BIH  1:45.62 Q
 4. Alvaro de Arriba         ESP  1:45.67 q
 5. Andrés Arroyo            BIH  1:46.75
 6. Edose Ibadin             NGR  1:47.98
 7. Samer Al Johar           JOR  dq

So Nijel Amos is no longer in the tournament, but the other real favourites all came through: Korir, Rotich, Brazier, McBride, Murphy, Tuka and Bosse all qualified. Three Kenyans, three American athletes, three from Great Britain as well. Spain, Qatar and Morocco each have two athletes still in. Kszczot, winner of the silver medal two years ago, just scraped through, he will need a better run tomorrow.
---